The Unassisted Home Birth of Honor Braveheart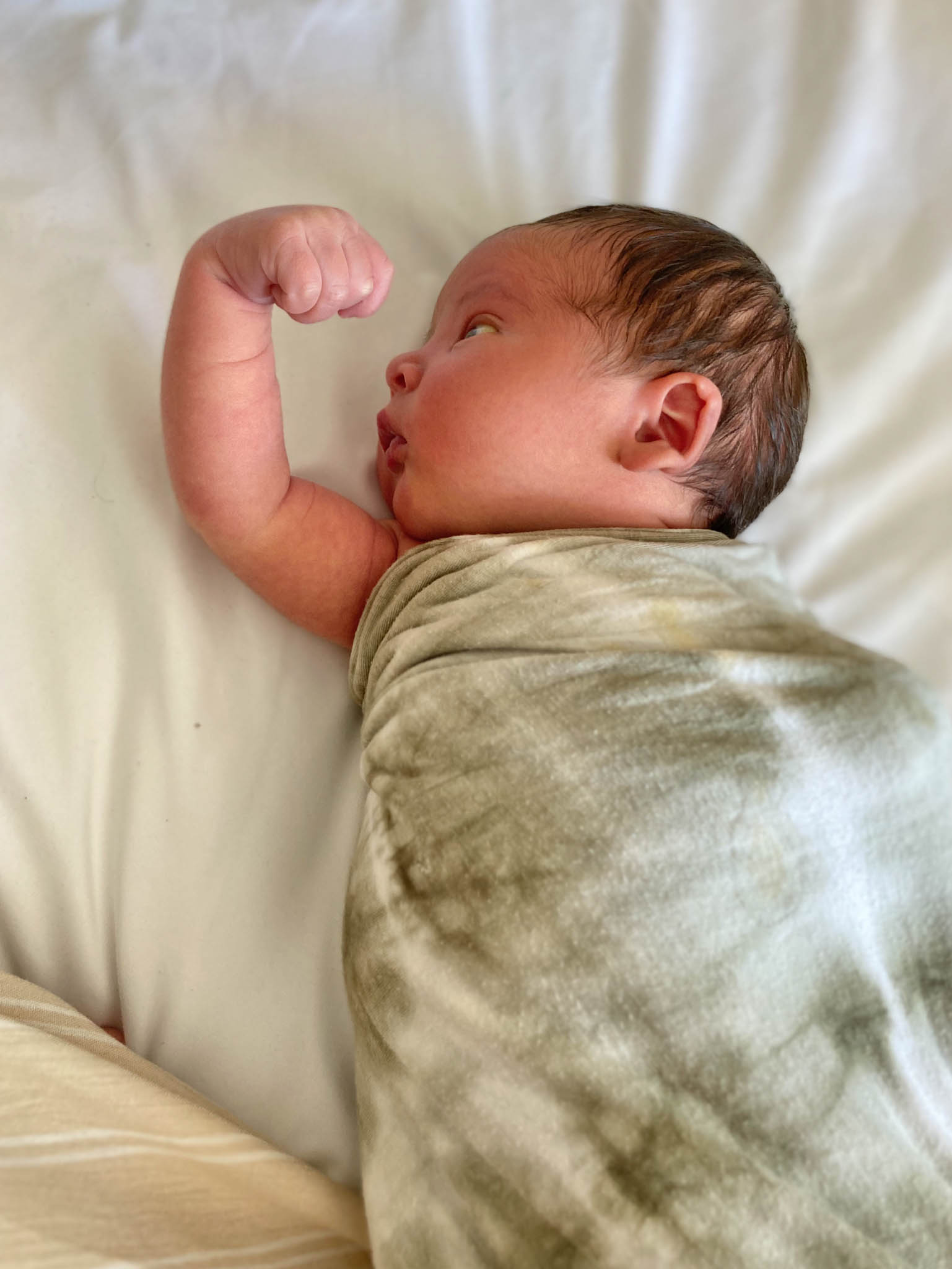 My Free Birth Story
Hi, I'm so glad you're here. Chances are, you are considering a free birth and you are reading every birth story you can find. I understand completely. When I was preparing for my first unassisted homebirth I made sure to consume all the information I can. I read countless amounts of birth stories, I read every home birthing book I could get my hands on.
All of these things definitely helped me feel more equipped and gave me a sense of what I was in for. Mind you, there was no one and nothing that was going to change my mind. I was going to have a free birth! I did have a previous home birth where a midwife and nurse were present but I personally love the intimacy of just me and my immediate family. It's truly so special, powerful and sacred! I hope our story encourages you. You can do this mama!
On 06/18/2021 I decided to venture out with my children on one of the HOTTEST days in Florida. I was 39 weeks and 4 days. There was a park we liked to go to and it was just a few blocks away. A couple blocks in we were all regretting our decision to walk. We were all flushed and desperately desiring some shade. We arrived at the park and the kids lasted all of 5 minutes and were literally begging to go back home. We half walked and half ran back home. Once we stepped foot in the door I ran to the kitchen and started making a delicious labor smoothie. Yummy pineapples and dates. The kids also had some and I started bouncing on my birth ball while the kids enjoyed a much needed bath.
I'm In Labor
I woke up at 3am that Friday. My contractions began consistent and intense exactly like my other 3 births. I was prepared and ready for the long early laboring stage. I stayed in bed for most of them. I definitely couldn't sleep through them but I wanted to stay laying and conserve my energy for the day. I got in the shower around 5:30am for some relief with piping hot water hitting my back. I stayed in for a few contractions and then got back in bed. 7am hits and I hear little feet upstairs so I get up to begin the day. I woke my husband and told him I was contracting all night and that contractions are getting more intense. He woke up so happy. We've been waiting for this day to happen.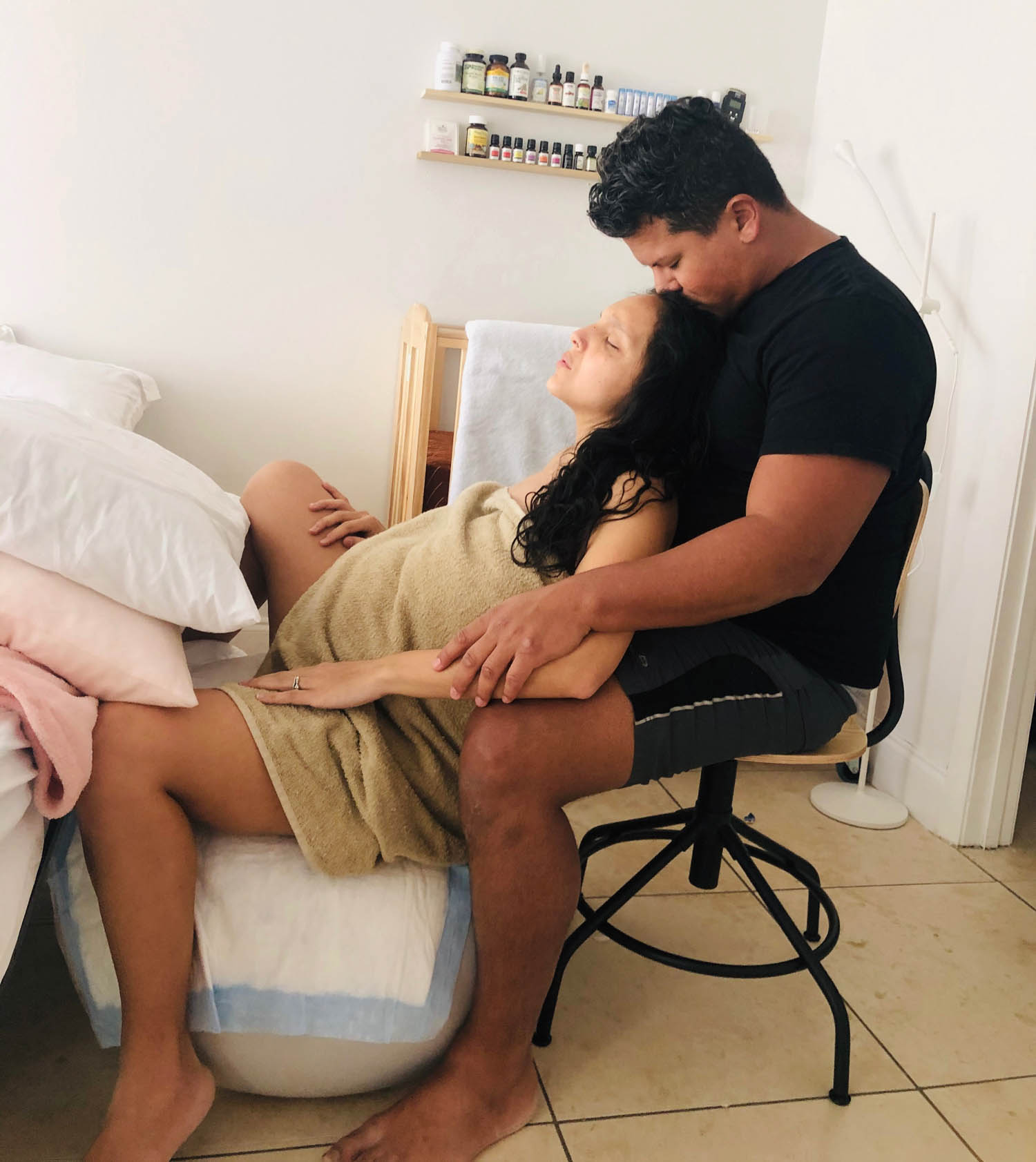 Our 3 beautiful children ages (6,4 & 2) were present for it all. My husband was so amazing and being the best support to me while simultaneously making sure they were ok and fed. Having out babes and no additional help made everything so much more beautifully chaotic. It brought me comfort and I wouldn't have changed anything about this day. It was legit so loud, like a normal day except I was laboring. Some moments were hard as I was trying to relax and I hear them yelling or fighting or whatever else was happening, but literally wouldn't change if for the world it made my whole entire birth experience that much more full. I still can't believe what me and my husband endured those 2 days.
Ok back to laboring.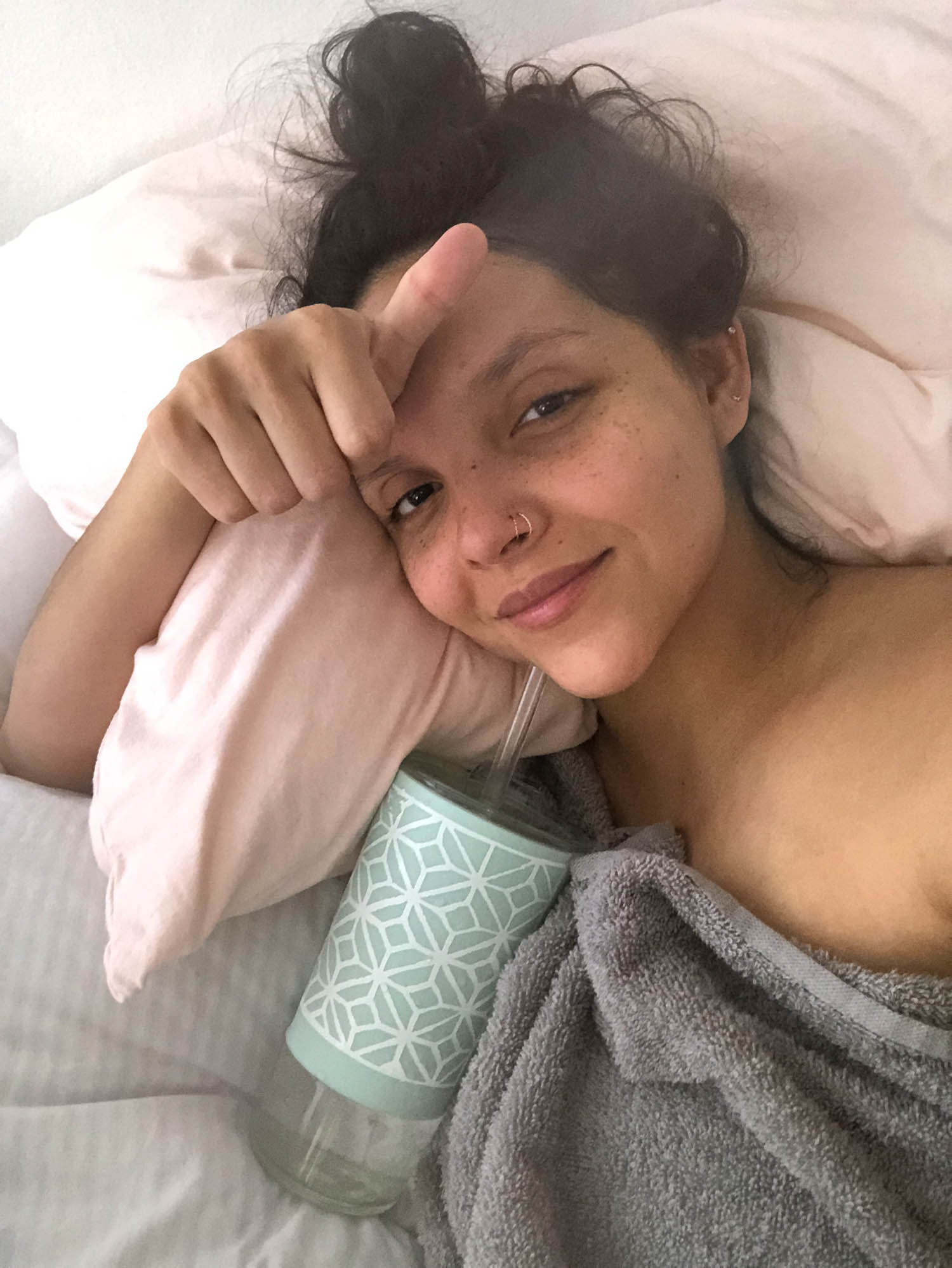 From 7am to 3pm I was in and out of the tub. I was bouncing on my birth ball. I laid down for a bit. I was on my hands and knees. I was doing it all. Had to keep switching it up as that what was working for me. 4pm hit and things were really intensifying. I wasn't finding comfort in any positions. I started taking Kali Carbonicum (a homeopathic that helps with back labor) because my back felt like it was about to snap in half.
6pm hits and I told my husband to put the kids to bed I couldn't wait until 7. I didn't know it then but I was entering transition and I wanted no noise. So he did the bedtime routine and came back down to me. They were up for a little while but they eventually fell asleep. I totally missed them when they went to bed.
I'm In Transition
At this point I don't know what time it was but from 7-8:55pm it was the most intense. I was on my knees on the side of my bed breathing through each contraction. Let me tell you. Breathing is SO IMPORTANT. I honestly never really did it so intentionally in my last labors as I did this time and it helped tremendously. It calmed me and helped me to focus. I started to feel immense pressure in my bum and my body naturally started bearing down during contractions. I definitely had a few poops coming out and my husband was catching them. I literally laughed during this. My husband was narrating everything that was going on. He's like ok "some poop is coming out and I'm catching it right now". Haha he's the best!
My Baby Is Coming
Then he started to see my mucus plug hanging and about 2 mins after that he saw my sac bulging. My water was still intact at this point. I got a contraction and I began to push and the bag was coming out. Then the head. My husband can see the babies forehead and then the bag broke. In two pushes I got the head out. Then the shoulders and then the body. Baby was born right into my husbands hands. I turned around and grabbed my baby.
SWEEEEEET RELIEF! My husband and I were laughing we couldn't believe what we just did. We were so happy! I told my husband to run up and get the kids. It was like Christmas. They popped up and ran down they were so happy. They felt like they waited so long for him and couldn't believe he was actually here. Baby came out and he immediately cried and began to pink up. It was the most incredible thing I've ever done.
I get in the best and I'm feeling so amazing because contractions stopped and I was holding my healthy beautiful baby boy. We waited until the cord stopped pulsating then my husband clamped it and cut it. He took the kids back upstairs and then came back down. It had been about an hour since I gave birth and my placenta was still in. I had never experienced that before so I got a little concerned. I got up and went to the toilet to pee. At this point contractions kicked in again and they were extremely intense. So I got in the shower and was trying to push it out but nothing was happening. Out of all the things we prepared for THIS was not it. We had absolutely no idea that this would happen and didn't ever really think to prepare for it.
Retained Placenta
It was going on 3 hours and a random thought popped in my head and I listened to it. I thought "I remember seeing the author of the book in this group I NEED TO TALK TO HER" I'm talking about the Home Birth On Your Own Terms book. I didn't even care about the time, like it really didn't occur to me that she might be sleeping (it was late) 12:30am. I called her and she didn't answer at first but she got back to me in less than 20 minutes and I am forever grateful for her guidance, wisdom and comfort.
Heather was exactly the voice we needed in this time. She assured us that this was a variation of normal and that as long as I was not bleeding and I felt ok that everything was fine. We FaceTimed and she was helping assess me and where I was at. At this point I was exhausted and really wanted to go to sleep but didn't know if I could. Like what the heck are the rules? She gave me the comfort & assurance I needed to just lay down relax and sleep. My placenta will come out when it's ready.
The night was very uncomfortable especially when I was nursing my son. I was having horrible contractions. However, I was able to get some sleep. I woke up around 6am and I had crazy intense pressure in my butt. I sat on the toilet and I was just trying to get it out but nothing. I tried everything. Every single suggestion. The thing just didn't want to come out.
Peppermint in toilet
Frequently urinating
On hands and knees
Deep squats
Sucked the cord
Coughing into your fist
Jumping
Gently tugging on the cord
Like I said my placenta just wasn't ready. So here we are in the middle of the day it's around 2pm and I physically felt like I just couldn't handle anymore. I wanted this thing out and for every contraction to cease! Going to the hospital was NOT an option for me.
My husband and I were praying and trying to stay relaxed. My thing was more the pain and the contractions. I already had my baby and I was still in labor. I laid down and got a good hour nap. When I woke up I was literally in transition. At this point I was trembling and my contractions were on top of each other. I was nursing my son and I had 2 long intense contractions.
I had to get off the bed while barely being able to stand from the pain. I made my way to the toilet and peed and then felt immense pressure to start pushing. I yelled to my husband "I think it's coming out". He ran and sat on the floor and seen the placenta crowning. I can see the look of relief in his eyes. I pushed twice and PLOP that thing fell so loud and hard into the toilet bowl. We started laughing and hugging. We were so damn happy that thing was OUT. The birth of my placenta took longer than the birth of my child. Ok do you guys want to see it? Here it is!!!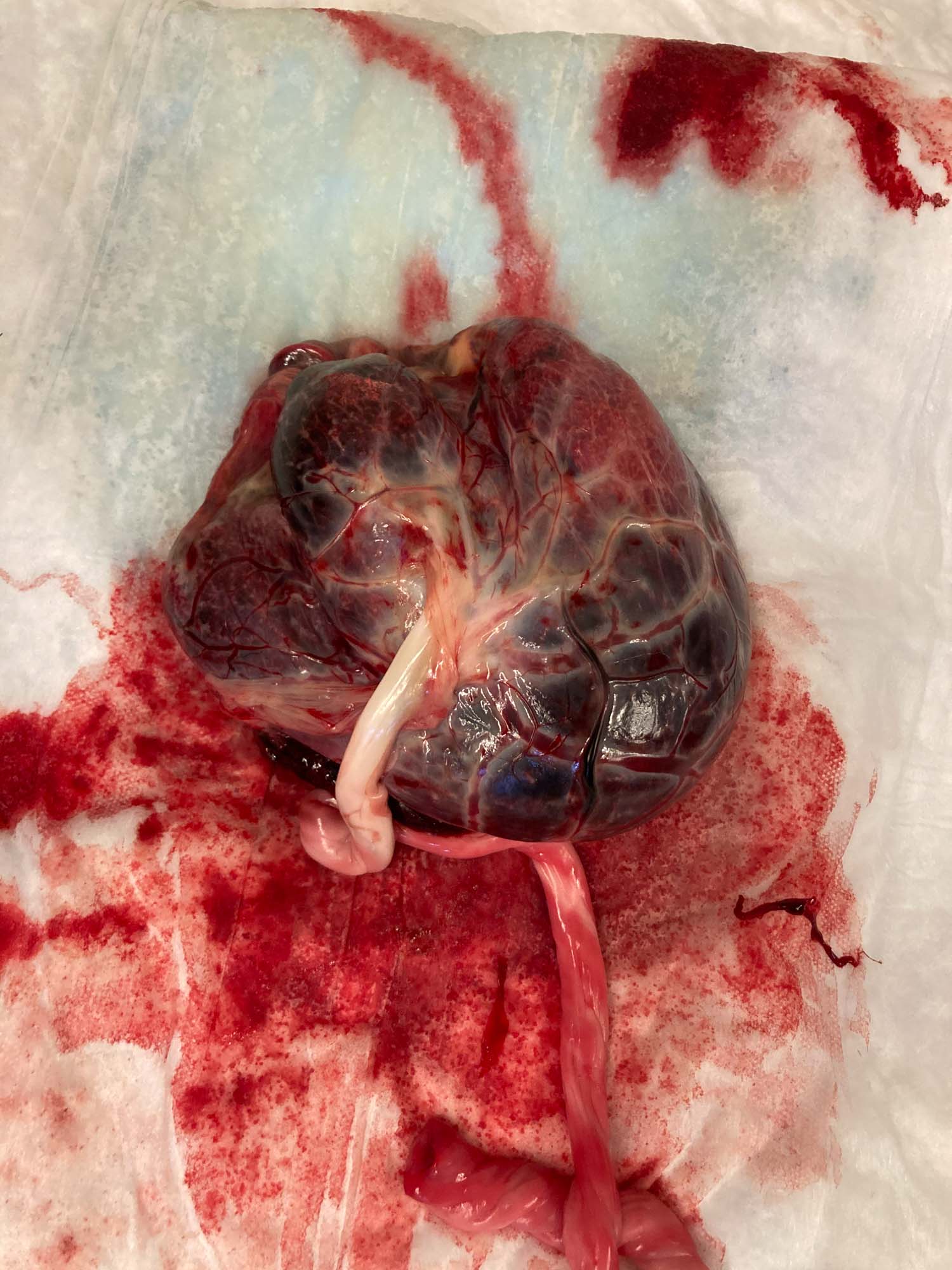 This was insane and I'm so glad that we got the unassisted birth we desired even with this crazy beautiful variation of normal that happened. I just want to encourage you mamas that once you have your sweet babe and your placenta is still in, don't fret, don't freak. Trust that your body knows what to do. For me this was trusting my body on a whole entire different level. So the thing was my cervix closed quickly and I had to dilate again to 10cm.
How insane is that? Our bodies are incredible! It came out like a ball which is most likely why it didn't pass easily. It literally was like pushing a baby head out. Also I was taking Angelica tincture consistently to help contractions stay consistent. Another tip if you experience this is DO NOT TELL ANYONE unless you want to deal with their fear and in turn cause yours which will negatively effect the entire situation. Trust your body and your instincts mama.
This is my birth story. At 39.5 weeks my son Honor Braveheart was born on June 19th at 8:55pm. Weighing 8lbs 14oz and 20inches long. My labor was a long intense 18 hours + an additional 21hrs to birth my placenta. 39hrs of intense labor and I'd do it all over again. 2 births. 2 transitions. It was definitely epic! If you have any questions feel free to reach out. Xoxo